---
Cash on delivery:
Please check out by choosing "Pick up" if you have your own courier account and e-mail us info<at>310ex.com, thank you.

310Tamper
Qua 310Slim®
M1.7 in stock
100pcs/pack
SANYO DENKI FAN SCREW
310Slim® colors
Ultra low head screw 310Slim®. SAIMA ORIGINAL.

SPECIAL SCREW FOR DRONE AND ROBOT
Flat Head screw is not applicable on thin plate since you will not have enough space for countersinking. 310Slim achive nearly flat surface without the head sticking out like truss or pan head screws.  310Slim will help to optimize a compact design by saving space and weight.

COMPACT DESIGN UNDERHEAD "R" & "UN-THREADED" PART
310Slim will help to optimize a compact design. Underhead "R" & "Un-threaded" part is designed very small to have bearing surface wide.  Small "R" = Small clearance hole = Wide bearing surface => Stable Fastening Small "un-threaded" part = Fully threaded under the head => Best for thin plate fastening.
2 RECESS TYPES "6-LOBE" AND "QUA"
"6-Lobe"(Hexalobular) is a standard recess as it is well know in JIS or ISO(JIS B1015/ ISO10664). Therefore, tools are easily can be purchased anywhere at your local DIY stores, hardwear supplier, and needless to say, here at SAIMA online shop.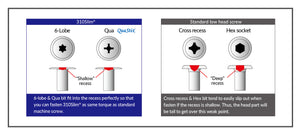 GOOD TORQUE TRANSMISSION
310Slim has "6-lobe" or "Qua" recess to make the head part extreamely thin.  Both recess have good torque transmission rather than the others such as cross recess, hex socket and the bit fits in to the recess perfectly even the recess designed shallow.  As a result, you can replace from standard machine screw to 310Slim today.
COMPARISON CHART
310Slim has a lot of advantage of Head Height and weight compere to the standard machine screw, low head cap or socket cap.  See the chart and you will see the difference by actual data.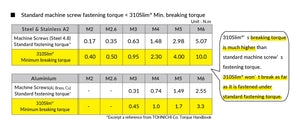 ALL OUR STOCK, HEAD STRENGTH AND PLATING GURANTEE
310Slim can be used as same fastening torque as standard 4.8 machine screw that is certified by the below chart.  Easy to replace from standard machine screws.  Please see the chart.  As per our plating, 5μm+ thickness for steel 3Cr and and Cu+Ni plating for steel nickel plating.